Top 4, For Now: Manchester United 2 – 1 Everton
It's great to see us sitting in 4th place but at the same time we shouldn't get too carried away. Looking at those opening 7 fixtures, we surely would have expected be sitting pretty high up the table and with more points from the previous games than we have actually achieved.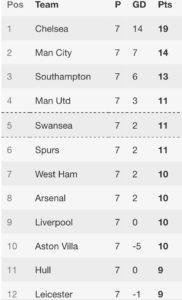 If it hadn't been for some outstanding goalkeeping by De Gea we wouldn't have taken all 3 points from Everton and whilst through the overall 90 minutes I think we deserved the win; it wasn't entirely convincing . We seem to start every game pretty well, full of movement and running off the ball. Whilst we are in control of a game we've begun to look very comfortable, but under any kind of pressure in the middle of the park we most definitely look vulnerable. If it's one position we still seem to be crying out for it's that midfield enforcer a la Roy Keane. I think considering age and injury history; Khedira, Strootman (subject to his full recovery) or Carvalho would be our best options for this position. While Vidal is undoubtedly a very good player, do we want another Owen Hargreaves type with no sell on value?
I was somewhat disappointed with Juan Mata's performance. I really expected him to take the opportunity of Rooney's suspension and show LVG exactly what he can do in that no 10 position. Other than a nicely weighted lay off for a beautiful strike by Di Maria for the opening goal, I felt he was largely anonymous. Again, I was also disappointed with RVP. He really doesn't look like the same player we witnessed a couple of seasons ago and on current form with a fully fit and available squad, should he be starting?
De Gea was sensational, the penalty and 2 absolutely brilliant saves late on in the game that enabled us to get the 3 points.
Now Falcao got his first goal, hopefully that will be the first of many, he and Di Maria are already most definitely crowd favourites and as they start to play regularly together one can sense many goals being scored by both of them .
It was great to see 3 young players on the pitch who have all come through our youth system in the form of McNair, Blackett and Wilson. We can only assume that the reason we let Welbeck go was to give Wilson his chance who most likely LVG feels has more goals in him than Danny. However why did we sell him so cheap? How can it make sense to have bought Luke Shaw who has barely played for England for £30 million and sell a proven England international Striker for £16 million? I wasn't against the sale as I believed he should be given a chance to play regularly but the fee was just bad business and selling to top 4 rivals didn't make a whole lot of sense either.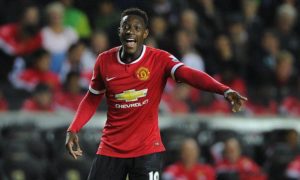 It's going to be very interesting over the next few weeks, Albion away will be no easy task to collect 3 points and for a team hoping to end the season in the top 4; we have to collect those 3 points at the Hawthorns. We then of course we have 2 huge games with Chelsea and City. Again we should be thinking that we can pick up 4 points from those 2 games to really build our confidence and march on for the rest of the season.
One thing for sure it's definitely more exciting viewing than 12 months ago and I along with the vast majority of reds feel it's only going to get better as the season progresses