The day Sir Alex Ferguson said goodbye to Old Trafford, hearts were broken worldwide. His farewell speech brought tears and trepidation to Reds everywhere. He signed off as a champion and achieved a level that no other manager might ever reach. Manager, mentor and father figure, SAF chose his top man for the job in David Moyes, a fellow Scotsman and rival manager in the Premier League. But is "The Chosen One" really the right man for the job?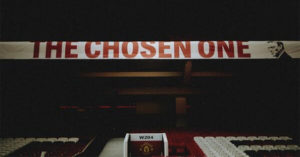 The start for Mr. Moyes has been a bumpy ride. During pre-season, it looked like he knew his football, but when the real showdown of the season started, it began to get real. Fans and pundits were unsure about Moyes' ability to perform at a club like Man Utd, and with one dismal performance after another, fan agitation and pundit put-downs have quickly gathered momentum.
Fergie said he didn't have a script during his farewell speech, but he made a very valid remark (perhaps more of a warning) when he said: "your job now is to stand by our new manger. That is important."  He might have been ad-libbing, but he provided us with a script to live by after his exit.
I started following United when I was very young, probably around 10 years old. My granddad was a massive fan – he told me the club didn't always have the glory it enjoyed during my childhood, but the players worked hard, the manager even harder; there was dedication from both sides, the fans and the players. Granddad always said "the new generation of United supporters is spoilt," – we expected nothing but victories. He reminded me that, as a fan, you pledge support, and you stick by your team through thick and thin.
Today, when Manchester United, still the Champions of England, is going through a tough time the like of which is alien to most of my generation, loyalty is more important than ever.  I strongly believe that if we can be champions, we can also be humble and take a few on the chin.
It's our job now to stand by our new manager and support our club even more passionately than before. That is important. So, let's get behind Moyes and our boys, and let everyone know WE ARE UNITED!
Related articles across the web