A Ship Without a Captain?
When we kick off against Everton on Sunday, a character familiar with both teams will be missing. Wayne Rooney (as we all know) received a red card against West Ham meaning he is suspended for the next 3 games. In some circles it has been suggested that we won't miss him all that much and this turn of events may be to United's benefit. With Wayne out (as well as the whole host of other players injured), we'll most probably see the Reds line up with Juan Mata in that hole that Rooney is ever so fond of. So, one wonders, is this Mata's chance to take ownership of that role?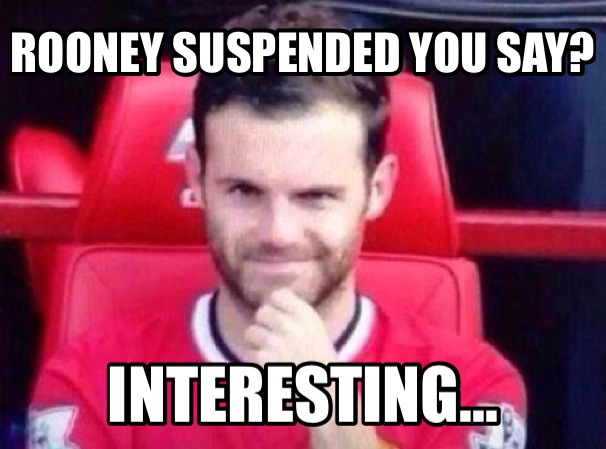 We're very aware of Mata's quality with some of us thinking that though he may be a different type of player to Rooney, he may actually be a better player. I certainly like him more, but that may just be down to the fact he is a better person than Rooney (as exhibited in his blog). He'll have two incredibly experienced strikers to feed and play off, and if you step back and survey that option – it looks pretty damn good. Hopefully the interplay between him, Van Persie and Falcao should be electric – not to mention the link up with Di Maria and (one assumes) Januzaj.
However, let's assume Fletcher doesn't play (which he probably won't); who'll captain our side? Will it be Van Persie – The man everyone expected Louis Van gaal would make captain when he took charge of the team due to his special relationship with the player? Or could it be De Gea who gets the armband – leading from the back in a throwback to the Schmeichel school of captaining? The latter option is not something I'm particularly keen on, though I do think David is becoming a commanding presence – he's still a bit young and inexperienced to lead our team out in what could be a heated game against the blue side of Merseyside. I imagine it'll be Robin, but I'm still unsure of his efficacy as a captain.
With that being said, Rooney often loses his composure in games against his boyhood club and whether the captaincy would have changed his mindset for the occasion we won't know until the return fixture. What can't be argued with is his stats this season. Rooney has scored 3 goals in 6 appearances, which is enough evidence to say he could have made an impact against Everton.
So Will United benefit from the loss of Rooney of be bereft? Can we record what could be an important win without the former Everton lad?