Reflections on Rooney's 300th Premier League Game
In a week with no FA Cup or European football for United, there was an almost uncomfortable amount of time to reflect on Rooney's new deal and await our trip to Selhurst Park with undeniable trepidation.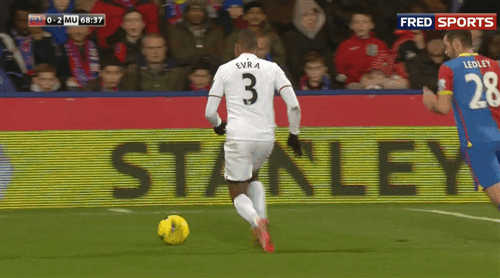 Whilst one awesome volley from Wayne is certainly not a 'justification' of his stomach-churning pay rise, his performance was a big factor in the win we so desperately needed.
As hard as it is to relate to the money he's now making, and as tainted as my opinion of Rooney 'the man' may be, I'm happy that this deal makes good business sense for the club. And whatever moral judgements I and other fans may have made about Wayne, I can't imagine there were many who didn't get a genuine buzz watching his spectacular strike yesterday. That's not just the buzz of seeing the club do well – that's not the only reason we cheer. At his best, Rooney is a joy to watch, and for the past 5 years, he's been ludicrously consistent.
Wayne's all-round contribution in terms of goals, creativity, and defensively too, should not be overlooked. There are plenty of great number 10s around these days, and lots of decent goal-scorers, but we'd be hard-pushed to find a player with the versatility, work-rate and class that Rooney provides. Even when he's been played out of position over the years (and who knows what his best position is anyway?!), his stats have still been impressive. He's averaged just over a goal every other appearance in the Premier League since joining us 10 years ago, but there's so much more to his game than that.
With Wayne in the team, we've won 5 Premier League titles, 1 Champions League, 1 FIFA Club World Cup, and 2 League Cups. Yes, his discipline has been problematic at times, and his repeated agitation for a move away from the club will always stick in the throat, but how many of those 9 trophies would we have at Old Trafford if we hadn't signed this gifted Croxteth lad back in 2004? And what was Fergie thinking dropping him against Real Madrid last year?
Rooney will be 29 in October, but his game hasn't been about pure pace for quite some time. I don't agree that he's already past his peak. What he gives us is almost infinite adaptability, exceptional vision (and the passing ability to back it up), and world-class technique when striking the ball. He will work his socks off for the team, and plays with a passion and desire that money cannot usually buy. Whether that passion and desire stems from love and respect for the club, calculated capitalism, or some more personal, perhaps even subconscious way of being, is hardly the point.
Ultimately, Rooney should be judged on his achievements, and he now has the chance to cement his status as a true Old Trafford legend.