[STATS ANALYSIS] Man Utd 2-1 West Ham
As a team, we completed 424 out of 491 passes yesterday (a completion rate of 86%). Against Leicester last week, we completed a slightly higher number of passes (451), but with a marginally lower completion rate (85%). Overall, the week-on-week passing stats are remarkably consistent; in fact, they differ very little from our 84% average pass completion throughout the 2013/14 Premier League season. Compared with the 4-0 win against QPR, the numbers naturally look less impressive (we completed 755/825 passes against QPR at a rate of 92%).
Our possession yesterday was 57% – again, not at all dissimilar from the season average of 55% recorded under Moyes. So is the quality of our possession superior? Last season, we averaged 4.8 shots on target per game; this season, we're at 4.5 – so you might well argue that no, it's not superior at all.
However, anyone who's actually been watching United can see beyond the stats and sense the shift towards a more aesthetically enjoyable and incisive style of play. Whilst we're nowhere near the perfect realisation of Van Gaal's vision at this point, the tempo, the movement, and the forward thrust are all tangibly better. Inside the ground, there's a totally different atmosphere – we're still vulnerable when we don't have the ball, but we're actually producing some entertaining football as a team, whereas Januzaj was pretty much the only player that was any fun to watch last year.
Let's take a closer look at the passing stats for our defenders and midfielders yesterday…
---
Rafael
Rafael completed more passes than any other player yesterday (59/64 – completion rate: 92%).
Whilst the majority of his passes were back to the central defenders (he showed great faith in debutant McNair), he also gave United bravery, penetration and pace down the right, and setup Rooney for United's first goal.
---
Herrera
Herrera, who looked particularly impressive in the first half, completed 46 of 51 attempted passes (completion rate: 90%).
Herrera covered a lot of ground, recycling possession in the United half, as well as moving the ball well in the final third (he completed more passes in the final third than any other United player). His passing was by no means the whole story though – Herrera increasingly looks like a player who can add some of the grit we've desperately lacked for so long, as evidenced by that decisive tackle on Song yesterday, and we've already seen he's got an eye for goal as well. Quickly becoming a fan favourite, and with good reason.
---
Rojo
Rojo completed 56 out of 64 passes yesterday, with a completion rate of 87.5%.
The consensus is that Rojo looked more assured as a left-sided centre-back; his impressive passing display was a highlight in a game where he also looked strong defensively.
---
Shaw
On his Man Utd debut, Luke Shaw completed 42/48 passes (completion rate: 87.5%).
Shaw covered the full length of the left touchline, and whilst his passing was generally safe and uncomplicated, he showed some good pass and move moments, managing to get involved on the edge of the West Ham box on a few occasions. However, it was his poor pass that led to Rooney kicking out at Downing and receiving a red card, and he won't get away with that kind of sloppiness too often under Van Gaal.
---
McNair
McNair had the fifth-highest pass completion yesterday, with 44 of 53 attempted passes finding their mark (completion rate: 83%)
At times, McNair's passing was a bit off, and he got an earful off Blind at one point for passing back to De Gea, but it was good to see his teammates trusting him with the ball and giving him plenty of touches.
---
Blind
Daley Blind completed 48 of 58 attempted passes, with a completion rate of 82.8%.
Blind gave the ball away a bit more often than necessary, but again exhibited a good mix of positional discipline and ability to read the game, closing down higher up the pitch at times, and occasionally venturing forward to contribute to attacks. However, in this role, passing accuracy is key – if he can get closer to the incredible 95.5% pass completion he managed against QPR (107 of 112 passes completed) on a regular basis, and really control the rhythm of the game like a deep-lying Paul Scholes, he has the potential to become a key player for us, but when he's being man-marked like he was by West Ham, that won't always be easy.
---
Di Maria
Di Maria managed just 39 passes yesterday, from an attempted 47 (completion rate: 83%)
It was evident from the off that West Ham were not planning to give Di Maria and easy game, with Song clattering into him twice in the first three minutes and earning a yellow card. Although Di Maria had a relatively quiet game by his standards, he still made more key passes (2) than any other player.
---
Rooney
Rooney completed 34/37 passes. Although his completion rate was good – 91.9% – he should surely be racking up a higher number of passes overall playing at the tip of the diamond. Compare these stats with Cesc Fabregas' 125/137 passes (91%) for Chelsea yesterday in a similar position, and you have to ask whether this is really where Wayne belongs.
Wayne scored a lovely goal yesterday, which is surely the main thing we want to see him doing. But as a creative number 10, he looks a far less obvious fit than Mata or Januzaj.
---
Take-Ons
Rafael was by far our most positive player yesterday, completing 5/5 attempted take-ons on the right wing – a figure no-one else came close to.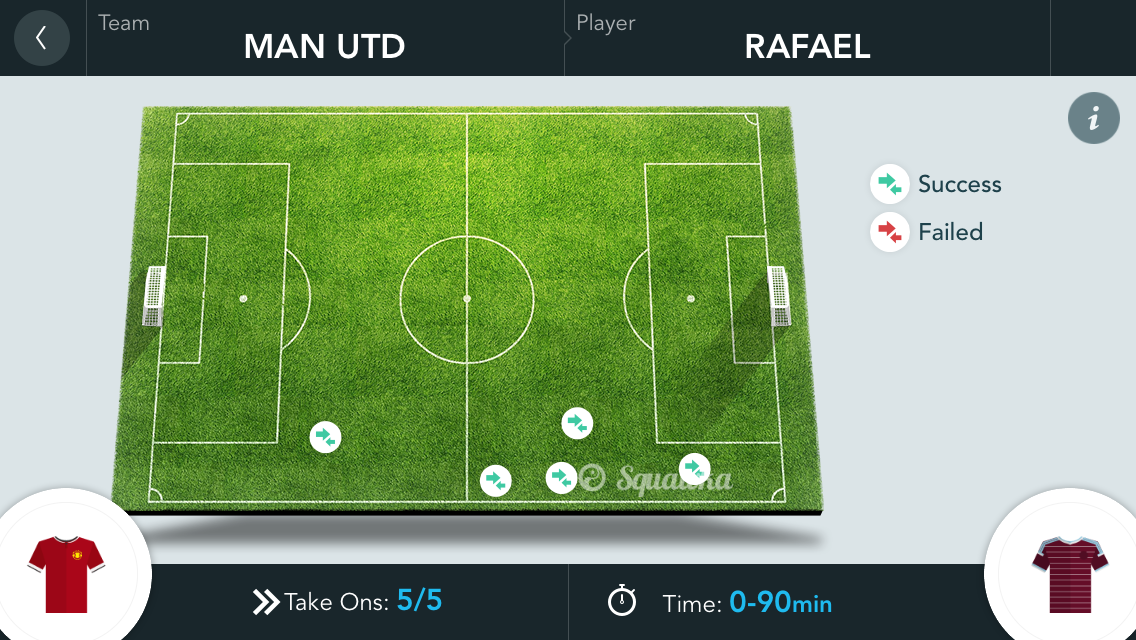 ---
Ball Recoveries
Once again, it's Rafael who leads the way – he managed nine ball recoveries yesterday, compared to Blind and Herrera with four-a-piece, Shaw with three, and four United players with two each.
---
Clearances
New boy McNair completed more clearances than any other player yesterday (13/13).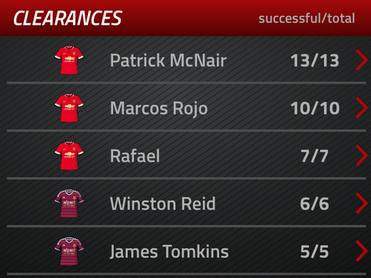 And this one was the pick of the bunch…
---
Man of the Match
After the Leicester City debacle, Rafael was being called out for being too rash, too immature, not up to the job. But yesterday, he showed off all his best attributes, and when he plays like that, there aren't many right-backs in the world you'd pick ahead of him. It was a complete performance from the Brazilian, and let's remember he is still only 24 – his maturity and decision-making will only improve, and his talent and enthusiasm are assets we should prize.