The Best Memories from Patrice Evra's Time at Man Utd
So it looks like Patrice Evra's time at Manchester United is coming to an end; another poignant piece of punctuation marking the shift from one incredible era into the next.
With Giggs moving from the dressing room to the dugout, and Rio and Vida leaving the club altogether, Evra's likely transfer to Juventus is yet another major change we're all going to have to wrap our heads round.
From his first goal for United to his rocket against Bayern, Paddy has given us so many moments to remember. It was truly a shame that the ecstasy of his goal in Munich back in April was so short-lived. But even though we couldn't match Bayern in the end, Evra later ensured this memory had deep context and meaning, and that it was something United fans could rightly treasure. Here's what he said when he spoke to MUTV:
"It was a special goal for me and I was really devastated that we lost that game because I really thought that we would qualify for the semi-finals… It was an emotional day, the day before the game. Everyone had been to the Munich memorial, where the plane had crashed with the Busby Babes. It was amazing. I was talking with a young player like Adnan Januzaj and telling him, 'These people were like us, they were on a plane going to play a football game.' And at the end they never see their families again. I always pray before games, I pray every day – to save my family, I even sometimes pray for my enemy. But I asked, 'Can I give something for the Busby Babes'. I didn't say a goal, but just to make sure we played for them in that game. That's why when I scored that goal, you can see I was really emotional, I was angry. I couldn't believe it. That's my little secret – and now everyone knows that secret. In the end we went out of the competition and that is why I was really disappointed, but it was a special moment for me."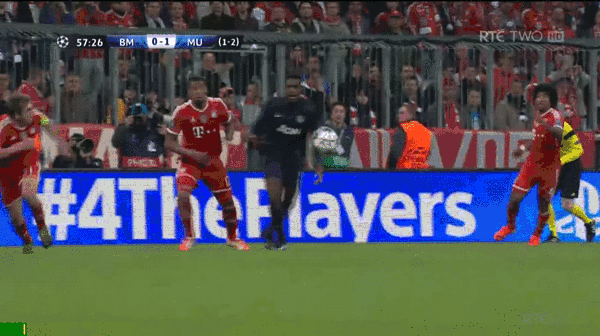 Evra has had his fair share of criticism in recent years, but he's always had a special place in the hearts of Reds around the world. In this post, 3 Manchester La La La regulars share their tributes to our outstanding number 3, followed by some more great memories from fans over at The Red Devils.
Evra's Man Utd Debut
Manchester La La La's Ricky had this to say about Patrice:
"My favourite memory of Evra is, bizarrely, his first match, when he and Vidic both lined up against Manchester City. He looked like he had never played football before and was taken off at half-time. It seemed that Fergie had bought him on the basis of his bravery when trying to play through a horrible injury in the Champions League with Monaco, and Fergie was impressed by his passion. Given that he was bought to challenge the injured Gabriel Heinze, who had recently been the fans' player of the year, I thought we had bought another duffer in the Kleberson mould, and Fergie was finally losing the plot. Sometimes it's nice to be proved wrong. Even though I never thought he was very good going forward, and his passing wasn't very good, and his crossing was terrible, and his defending has been pretty shoddy over the last couple of years, there was just something very United about Evra that made us love him and it's hard not to feel like we miss him already. Let's hope that Luke Shaw can make us feel a little bit better about it!"
His Eloquence in Defeat
Maximan – our man in SA – also had a surprising choice when asked to share his favourite Evra moment…
"I can remember after we got knocked out of the Champions League in March 2010. We were 3-1 up at half time and looked to be mounting an unlikely victory against a really strong Bayern, overturning a 2-0 defeat from the first leg. Then Rafael was sent off for after receiving a second yellow card for a nothing tug of Ribery's shirt. True to form, the Frenchman made a meal of it, and with sixteen minutes remaining, Robben scored the winner to make it 4-4 on aggregate, and Bayern went through on away goals.

I was devastated and reliving those moments as I went to sleep. In the morning, I was watching snippets of MUTV, which we used to get in South Africa, and there was an interview with Evra. He was so eloquent in defeat, piqued with sadness but also sanguinity, and the one quote that made it alright, delivered in his beautiful French brogue: "You know, nobody died, we lost the match, we're all upset, but we're all okay and nobody died."

I also think the dressing room will be a quieter place without him as he has such a great sense of humour and I believe all the players liked him. Good luck in Italy Paddy, you gave us some good memories of a brave and committed flying left back and some great goals. I only hope your £30m replacement can grow to be half as good!"
That Suarez Celebration
Our resident psychotherapist Alex said what many of us were probably thinking – no Evra moment was quite as sweet as that cathartic celebration after we beat Liverpool in a game where an unrepentant racist refused to shake the hand of his victim…
"As a United fan, it's hard not to like Evra. He wore the shirt like he understood everything that it encompasses. He was obviously a huge personality who brought humour to the team as well as that big heart and passion he exudes.

My favourite moment is hard to pick; his goal against Roma in the 06/07 Champions League was a scruffy little pea-roller which capped one of our best nights in Europe. Although some thought it lacked class, I loved his reaction at the end of the game against Liverpool where Suarez refused to shake his hand.

He celebrated that victory just like we'd won the league, and I just empathised with him so much, despite it maybe not being the best way to go about it. He went through a lot of shit, including the Liverpool squad training in Suarez-supporting shirts. In that moment, at the end of the match, he'd won. Not just match or a derby, but a moral victory; karma.

He was and is a fantastic little man, and I'll miss him deeply."
His Incredible Fitness
Over on Reddit, Gypsybear was keen to point out Evra's ridiculous ability to stay fit – he rarely needed a rest and was virtually never injured during his time at United…
"What I find to be absolutely incredible was his fitness and health level. He played just about every game for 6+ years with very little rest… From 2007 to 2014 he played: 48, 48, 51, 48, 47, 42, and 45 games for us!!! It's truly amazing. Fullbacks are always running. We never really had much cover for the LB spot and he consistently was able to play match after match in the physical Premier League, also all the European and cup games he played. He was rarely injured and played at a really high level week-in and week-out for us. It's amazing he's still able to play considering he's played what seems like 50+ games per season for 6 or 7 years in a row. Simply astonishing and something that I don't think he gets enough credit for."
There was also a special mention for Evra's friendship with the similarly superhuman Park Ji Sung.
And some big love too for Evra's rugby tackle on Januzaj in the celebrations following Adnan's volley against Sunderland (one of the few highlights of an otherwise miserable season).
The Best of the Rest
There really are so many memorable Evra moments, from the poignant to the piss-funny.
Here are a few more for you to reminisce over as we prepare to wave goodbye to another true United legend…
Evilthing reckons the funniest Evra moment was when Buttner scored on his debut: "Pat's face was absolutely priceless!"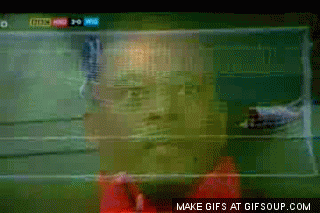 HorriBliss remembers Evra singing 'Wem-ber-ley' after we beat City 3-2 in the 2011 Community Shield.
And the delightfully named rhythmicslapping picked out this "wonder of a cross" for Scholesy's header to beat City 1-0 back in 2010.
What's your favourite memory of Evra at United? Leave us a comment below!
Related articles across the web