Mata's Performance vs Newcastle Confirms What We All Knew
United cruised to a 4-0 victory away to Newcastle today, building on a sequence of good results in the Toon in recent years and maintaining our exemplary away form this season.
We were playing a badly depleted Magpies side with a habit of capitulating when things aren't going their way, watched by a manager still confined to the stands after that humiliating headbutt, but we were also far from full-strength ourselves. On balance, it certainly feels like a win worth celebrating.
We've now scored 8 goals in our last 2 Premier League games – exactly the kind of mood-lifting results we desperately needed going into our European face-offs with Bayern.
Without doubt, the standout player this afternoon was Juan Mata. Having scored his first goal in a United shirt at home against Villa last weekend, he showed his quality again on Tyneside with 2 fine goals that both oozed confidence and class.
His free-kick towards the end of the first-half was beautifully curled into the top-right corner. His second goal was a study in calmness and composure. And his perfectly-weighted, back-heeled assist for Januzaj, capping a lovely team move, was a beautiful combination of awareness and technique.
After the match, Moyes said Mata was "terrific all day for us." Perhaps the absence of both RVP and Rooney worked in his favour – he seemed to relish being the main threat in the final third, whereas in some games where the so-called new 'Holy Trinity' were all on the pitch at once, there was at times a sense of tension, and a reluctance from Mata to infringe on anyone's egos.
Mata is clearly a pretty humble guy, and very much the diplomat, as his letter to Chelsea fans when he left the club showed. Whilst he and De Gea have an obvious bond, it can't be easy to walk into a dressing room like ours halfway through a very challenging season. Regardless of your quality and the way you conduct yourself, there's probably still a period where you're earning the respect of your new colleagues, and maybe his desire to make friends and fit in was blunting his impact on the pitch.
Having opened his account against the Villans last week, and following that up with his man of the match performance today, hopefully this marks the point where he's really starting to feel comfortable at United, and really starting to play like a Manchester United star. When Rooney and RVP are both fit again, hopefully the dynamic will be different, and the 3 of them can start conjuring some of the magical football we know they're capable of, right?
The issue, though, is where Mata plays when both Rooney and RVP are available. Against Villa last week, and against Newcastle today, Mata played where we all know he belongs – in the number 10 position. It's just blindingly obvious that this is where he needs to play. I can understand that Moyes is desperate to accommodate all three of his most talented attacking players, but pushing Mata out wide is a totally counter-productive compromise, a source of massive frustration to fans, and a good reason for the Spaniard to wonder whether Moyes has any idea what he's doing.
Playing on the wings (14 appearances on the right and 1 on the left), he's contributed 3 assists, with an average rating of 6.53. Playing through the middle (8 appearances), he's contributed 3 goals and 2 assists, with an average rating of 7.59 (WhoScored.com).
Below, you can see that much of Mata's passing against Newcastle today was concentrated towards the right-hand side of the final-third (which is pretty much exactly where you want him to be with that lovely left-foot of his), and he also completed 2 passes within the box (1 being the assist for Januzaj's goal):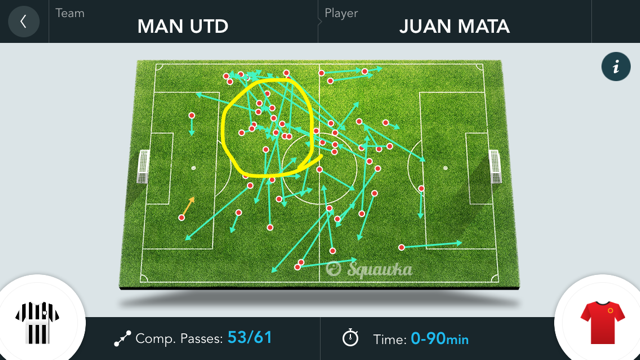 Compare this with his passing in the home defeat to City, which shows that he was stretched along the right-wing for much of the game, without really exerting any clear dominance on a specific area of the pitch: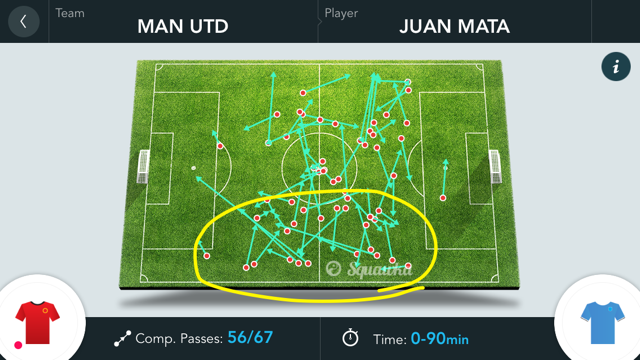 For the overall balance of the team, and based on current form, I'd rather have Van Persie on the bench and play Mata in his preferred position, with Rooney, Welbeck or Hernandez ahead of him.
Whilst Mata was the star performer today, and can certainly be a key player for United for many years if used properly, I was also impressed with Kagawa and Fletch, who both put in good performances and complemented Mata well.
On days like this, the suggestion that our squad is in some woefully advanced state of decay just doesn't feel fair. That's not to say we don't need reinforcements, or that Fellaini isn't the most monumental waste of money we've ever witnessed, but there was plenty to be positive about this afternoon.
It was a bit of a shame not to see 18-year-old striker James Wilson make his debut given the situation could hardly have been more suitable, but I'm sure his time will come. Burnley are apparently preparing a bid, but if he's as good as lots of people are saying, he should look at Januzaj's glut of first-team action this season and trust Moyes to give him his chance.
It's a big, big shame that Mata can't continue his fine form at the Allianz Arena on Wednesday, as he's obviously cup-tied, but I've got a feeling Wayne will be back in action against Bayern. Moyes hasn't tended to give the media much information about injuries throughout this season, then as soon as Rooney hurt his toe, he was telling the world – not the most convincing mind-games we've ever seen, but at least he's trying.
Make no mistake, this season has been a massive shock to the system, and we're still reeling from the wretched defeats against our 2 biggest rivals, but we couldn't ask to be in much better form heading into the 2nd-leg against Bayern – the best team in the world right now. I'm still pretty sure there are better men for this job than Moyes, but it's a fickle old world, so let's just wait and see what happens next…