In the Game: Where are Man Utd in FIFA 15?
This is the first year where Manchester United do not feature in a FIFA advert. A gameplay ad is released for every FIFA game, and this footage is invariably used in the intro sequence at the start of the game.
The gameplay ad for FIFA 15 shows top teams and players, but not one player is from United; there's not even a glimpse of a red shirt on show…
"What does this mean?" you may ask. If you don't play FIFA, you might not understand why I'm getting myself worked up about this. Well, let me explain why this bothers me, and maybe you'll be able to empathise.
Since it was reinvented for the Xbox360 and the PS3, FIFA has always featured United in its gameplay ad / startup video. FIFA 07 was the first edition on that generation of consoles, released in the year we reclaimed the title after that barren spell.
FIFA had a United presence both in the gameplay advert and on the cover art until Rooney was dropped in 2012 in favour of someone a little more "family values" (just don't mention the massive tax fraud).
Our success between 2006 and 2013 was plentiful and things were good. We were reinstating ourselves as the top team in the country; winning the league, if not coming second and challenging in Europe. We were actually the second best team in Europe during that time, only losing out to what I'm sure will be looked back on as the best Barcelona team in history. We had some of the best players in Europe, if not the world. We wholly deserved all the recognition we were given, including prominent positioning in FIFA 06, 07, 08, 09, 10, 11, 12 & 14.
You may also remember that Ryan Giggs was on the front cover for the 2003 edition, and Paul Scholes was the star in 2001.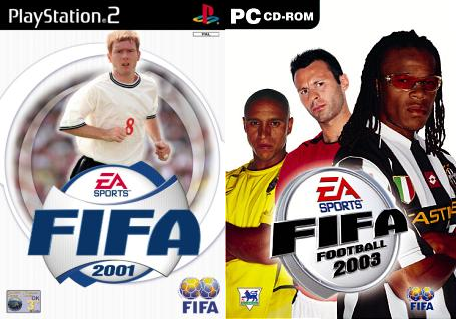 Amazingly, FIFA 15 will be the first ever edition of the game to not feature Giggsy at all. For gamers of a certain age, that is actually a huge landmark; not quite as traumatic as Sir Alex's departure last year, but still pretty poignant nonetheless. Obviously, this is a testament to Ryan's longevity and quality over the last 24 years.
Which brings me to our most recent season. I don't really need I go into much detail do I? We had a terrible year, tumbling from champions to seventh place, and missing out on European football. It would be nice to send that year down the memory hole, 1984-style, erasing it from history, but I think we need to learn that having a bad year can maybe ground us. I think we'd become a bit complacent thinking our success was guaranteed – nobody imagined we'd capitulate like we did. Now, as a result of our undeniable underperformance, we've been omitted from the FIFA 15 marketing campaign.
Why is this important? Well (for me) this acts as a sort of allegory or mirroring of our success in the last 10 years. We're always featured, often as the star of the show, but this season it's different. We're not top dogs anymore; we're amongst the thousands of teams who don't take the accolades this year, and that's not something I'm used to.
Because it's a reflection on our season and because I Love FIFA, this bothers me as much as any FWA, PFA or Ballon d'Or. I want Manchester United to be front cover news for the next season.
When it comes to gaming, I'm rarely interested in other titles. However, I'm a total victim of EA Sports marketing – every year, I buy the new title, despite it often not differing too noticeably from the year before. I've invested a lot of time in FIFA from my early teens to my late twenties, so it means something to me. That's why the fact that our invitation for FIFA 15 prominence got lost in the post grates me so much.
Related articles across the web