Man Utd Transfer Rumour Roundup: Today's Stories
We're past the halfway point in the January transfer window, and there's been a conspicuous lack of activity on the United front, bar the imminent exit of the 'midfield magician' that never was…
Anderson to Fiorentina on Loan
Anderson's loan move to Fiorentina is pretty much a done deal, with reports indicating he has flown to Italy to complete the move.
Anderson has pretty much been trading on his inspired but ultimately meaningless nutmeg on Fabregas since 2008, and even his own team-mates have taken the piss out of his penchant for burgers and crisps.
Suffice to say, he was an unmitigated flop, and there will be few Reds who'll shed a tear should his move to Florence become permanent.
Friends Reunited at Fulham
With Bryan Ruiz on his way back to Holland to ply his trade at PSV Eindhoven, the rumour-merchants are suggesting Nani could be reunited with Meulensteen and Berba at Fulham on loan. This follows reports that his old club, Sporting Lisbon, are also keen on bringing him back until the end of the season. With Valencia still inconsistent, Young unconvincing, and Zaha completely unproven at Premier League level, it seems unlikely there's much substance to this one, but then again, he's probably off to Spain to play for Valencia! If he does leave, I hope we get a decent fee and wish him well in the future. A talented guy, but not the best football brain.
Moyes in for Moura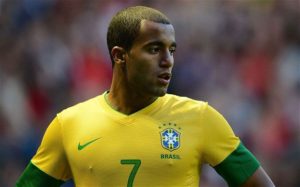 Moyes watched PSG at the weekend, and the word on the street is that he was eyeing up Lucas Moura. We are perennially linked with the Brazilian midfielder, who has already made 31 appearances for his country at the tender age of 21, and he could expect to start most matches if he decided to sign for us this month. That would be key with Moura looking towards the World Cup this summer, but he's already snubbed us once before, so I'm not getting my hopes up with this one.
Vito Mannone to Deputise De Gea
Reports wafting over from Italy on Wednesday suggest that Sunderland's Uruguayan keeper Vito Mannone could be on his way to Old Trafford, with Moyes eager to find a more convincing understudy for David De Gea than the eternally underwhelming Anders Lindegaard. Gus Poyet has played down these reports, but admitted he's looking for a new goalie himself. In conclusion: meh.


Check back with Manchester La La La soon for our take on all the latest transfer rumours.