Have Man Utd Grudgingly Accepted the Cold, Heartless Logic of the New Football Economy?
After this hectic transfer window, we can all breathe a sigh of relief as the fog clears to reveal a forest of talent waiting at Carrington to bring our trophy back, not this year I believe, but maybe next?
But are we saying goodbye to a youth system that served our club so well over the years? The Busby Babes and Fergie's Fledglings – will we ever see their likes again? Are we ready to accept that this is how football now works in the upper echelons of the game?
As Welbeck leaves to join Arsenal, a plethora of our youngsters must be starting to look and wonder where they can get full time football elsewhere. Tyler Blackett, Will Keane, Nick Powell, David Wilson, Reece James and the rest… where will they all fit into the 'Galacticos' of the new Old Trafford?
With the help of huge investments by oligarchs and sheiks, Chelsea, City, Madrid, PSG et al have all unleashed torrents of wealth in an attempt to hoover up the world's best players, and United's ethos now seems to have changed to keep up with them. Even Liverpool spent over £100m this window (largely funded by selling Suarez, of course), and Cheslea actually made a profit of £800,000 thanks to David Luiz.
However, United's balance sheet for this window does not look good, with a net spend of £122m, and still the glaring holes remain. The squad looks especially problematic if Van Gaal chooses to persist with 3-5-2, as we are still lacking a first-class right wing-back, a solid centre-back and a midfield general. Maybe Rooney is prepared to drop back, but then where does that leave £37 million Mata?
As United look to enter a new era, the meme-machine has us compared with a narcissistic gym-nut who spends all his time beefing up his upper body without ever having a leg day.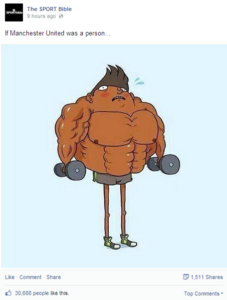 There may be some truth in that analogy, whilst the more fundamental suggestion that we've somehow sold our soul is a scary one, but, nevertheless, I can't wait for QPR on the 14th.
Who will be playing? Or moreover, who won't be?! For the first time in a while, it seems plausible that other teams will now fear coming to Old Trafford, and fear hosting United on their own turf, with Van Gaal at the helm. Who knows what the next three years might bring.
Related articles across the web