Who Should Man Utd Buy in the January Transfer Window?
Moyes' first transfer window at United was a complete failure. This time, he needs to show he means business, spending £50 million plus to add world class talent to the team in the areas where it's so obviously lacking.
2014 started in the worst possible way for United, with a fairly limp home defeat against an admittedly resurgent Spurs. That team spent big in the summer, and it's looking like Sherwood might prove the doubters wrong by finding a way to get the most from an expensively-assembled squad with a mix of established egos and promising young talent.
We've got plenty of promising youngsters of our own, with Janujaz already looking like one of our most important players this season, but we need to back that up with some experience, authority and world-class quality.
It's the Midfield, Stupid!
It's been repeated by everyone with an opinion on the game, but the top priority for United has to be strengthening the midfield. It's great to see Fletcher back, but even with him and Carrick fit, we lack someone with the pace, power and technique to help us really dominate those midfield battles. If Fellaini was supposed to be that player, then God help us.
Arturo Vidal – The Dream Option

My top target would be Arturo Vidal. Since moving to Juventus in 2011, Vidal has been involved in more Serie A goals than any of his team-mates, scoring 24 and creating another 15. As well as adding that much-needed goal threat and providing real creativity from the centre of the park, Vidal is also someone who can win the ball-back and protect the defence when needed. He has even done a job at centre-back occassionally. There have been a flurry of reports linking us with the Chilean in the last few days, but he has recently signed a new contract at Juventus, and could be key to them retaining their Serie A title this year. If we're going to avoid this becoming another Thiago / Fabregas farce, we need to stop messing about and match Juventus' asking price, as well as offering Vidal a contract that proves we know his worth.
Alexandre Song – The Realistic Option

Since rumours linking Barcelona's Alex Song with a move back to the Premier League surfaced early last month, this one seems to have gone quiet, but having failed to establish himself as a first-team regular at the Nou Camp, where there is an embarrassment of central midfield riches, he could surely be tempted to return to England. Barcelona paid just £15 million when they signed him for Arsenal, and reports suggest they'd be willing to let him go for £10 million. If that's true, we should get the ball rolling straight away. He's a proven, world-class defensive midfielder who could protect the back four and help free up the likes of Carrick, Cleverley and Kagawa to do what they do best.
Ross Barkley – The Better Than Nothing Option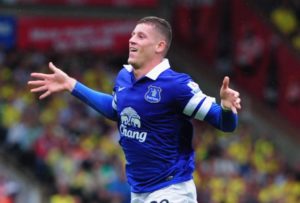 A very different kind of player to Vidal and Song, Ross Barkley has been touted as a future star for a long time, and this season, he's started to live up to those expectations in a rejuventated Everton side. Barkley has strong links with Moyes, he's just 19 years old and would surely add energy and youthful fearlessness to our midfield, as well as chipping in with some goals. But the £50 million valuation that's been quoted in the press seems beyond ridiculous – as if paying £27 million for Fellaini wasn't bad enough! If we can pick Barkley up for closer to £10 million, I think he's worth a punt, but he certainly won't solve all our problems.
Who would you like to see United going after this month?