Man Utd's Greatest All Time XI: The Eternal Debate
Whether you've been a Manchester United supporter for 50 years or you never knew life before Fergie, every Red has surely got their own take on the Man Utd all time best 11.
For a club with such rich history, narrowing down 11 names for that ultimate fantasy teamsheet is never an easy task. That's why the question "what is Man Utd's best ever 11?" has been the starting point for innumerable pub-table debates over the years, and will continue to provide fertile ground for beer-fuelled intellectualising by United fans for many generations to come.
With so many legendary names to have graced the Theatre of Dreams – from some absolute beasts at the back to some of the game's most elegant attacking talents, we really are spoiled for choice when picking the Man Utd greatest XI.
We could hardly claim to be a proper Man Utd blog if we didn't tackle this age-old debate at some point – we thought about trying to distil this down into a definitive Manchester La La La XI, but that just felt too reductive. So instead, here are the views of 4 La La La writers, who all share their own Man Utd best XI.
[wp_ad_camp_2]
---
Mike's Man Utd Best 11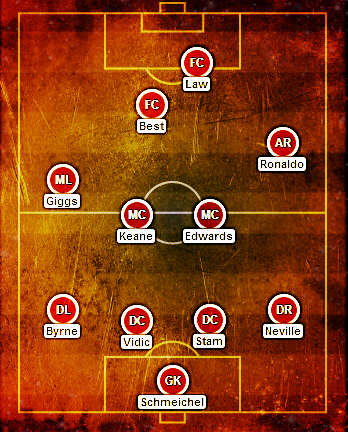 Goalkeeper: Schmeichel
Without doubt, the greatest keeper ever to play for United and in the Premier league. Who can ever forget some of his incredible saves, but the one which stands out for me is against Arsenal in the 1999 Semi Final replay at Villa Park, where he saved Bergkamp's penalty and arguably took us onto the historic treble.
Right back: Gary Neville
United till I die – that was Gary. A brilliant positional defender, strong going forward, and with United blood coursing through his veins. A brilliantly emotional player who has to go down as one of Man Utd's best ever.
Left back: Roger Byrne
Captain of the Busby babes – a brilliant left full-back, and if he could captain that team, how can anyone leave him out of a Man Utd greatest XI.
Centre back: Nemanja Vidic
Nemanja, woah, Nemanja, woah… A true warrior, he bled for the cause on numerous occasions. No striker looked forward to a Saturday afternoon with our Serbian soldier.
Centre back: Jaap Stam
Pure quality. It was a great shame he fell out with the boss – he was a tower of strength in the heart of the defence, and a great, great player.
Central midfield: Duncan Edwards
Arguably the greatest English footballer ever lived. A giant; a machine that just rolled over the opposition, so sadly taken away from us at just 21 years old in the tragedy of Munich, along with so many other fantastic players. My father used to tell me stories of the great Duncan Edwards, and how, in his opinion, he was the greatest player he ever saw. My father only passed 2 years ago at the age of 88, so he saw many a great player in his time. For an all time best XI, Duncan is a must.
Central midfield: Roy Keane
There's only one Keano. As every United supporter will tell you we have never managed to replace Keano. I think in the last 20 years we can only say that about 2 players: Keano and Ronaldo. That's how good Keano was for United.
*Right wing: Cristiano Ronaldo
I don't need to say anything other than BRILLIANT. For me, watching United since 1958, he, along with Bestie, were the 2 greatest I ever saw playing for us, both wearing number 7.
Left wing: Ryan Giggs
An absolute legend – his record says it all. His loyalty to United was incredible, and I'm so happy to see him now at the side of LVG. Hopefully one day he will be ready to take complete control. There is so much to remember about his career, so many fantastic moments, but who can forget the greatest goal in FA Cup history, and that chest!
*Centre forward: George Best
Best, the boy who had the lot, with balance like no other player in the history of football. What a magnificent player – no words can describe him. Pele is widely regarded as the greatest footballer in history, and he says George Best was the greatest footballer of all time. Need I say more?
Striker: Denis Law
Law, oh Denis is our King, oh Denis is our King , oh Denis is our King… Adored by all 60s and early 70s reds, and when he back-heeled us into the old second division and all could see the sadness in his face and eyes, I think we just loved him even more. Denis will forever be our King.
*Best and Ronaldo would probably interchange positions in this formation, as they are both great on the wing and down the middle.
There are many great players not in this 11 – Cantona, Charlton, Beckham, Rio, Van Der Sar, Taylor, Scholes, Stiles, Robson, Irwin, Pegg, Coleman, Ruud, Bruce, Foulkes, Crerand and many others!
---
Maximan's Man Utd Best 11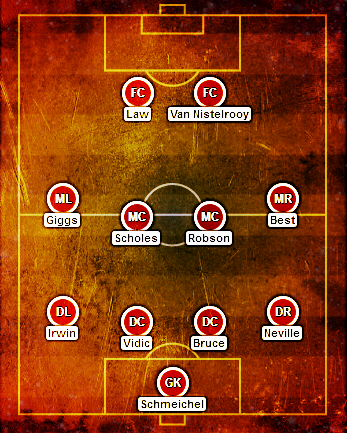 Goalkeeper: Schmeichel
It goes without saying that this Danish giant was a demon between the posts. A benchmark against which every other goalkeeper since has been judged.
Right back: Gary Neville
A red through and through, never flinched or ducked out of a challenge, and who can forget kissing his badge to the Liverpool fans when Rio scored the late winner in 2007?!
Centre back: Steve Bruce
Brave, loyal, hard and a fine captain. Arguably won us our first Premier League title in '93 with those two extra time headers against Sheffield Wednesday.
Centre back: Nemanja Vidic
Only just gone, but not to be forgotten. A true warrior; aggressive, intelligent and a rock at the back. Who wouldn't go into battle with him as your leader.
Left back: Dennis Irwin
£350,000 from Oldham – what a servant. He had it all; speed, bravery, free kicks, crossing and penalties. Was and still is a really humble guy.
Central midfield: Paul Scholes
The Ginger Ninja. The man who Zinedine Zidane said was the best midfielder in the world. Known for placing pinpoint shots to the backs of players' heads in training while they were having a wee against the wall two hundred yards away.
Central midfield: Bryan Robson
Captain Courageous – a strong leader, full of skill and grit, and always knew when to arrive in the box to score that vital goal. Fergie's first general.
Right wing: George Best
The man Pele said was the best player in the world; nothing more to add.
Left wing: Ryan Giggs
Twenty plus years of service and a joy to watch in the nineties, tearing defences apart. A couple of dodgy years later on due to injury, but a credit to his profession. A footballer's footballer and now Assistant Manager of Manchester United.
Striker: Dennis Law
The King… cheeky, arrogant and a poacher par-excellence. Part of the legendary triumvirate that perfectly embodied Man Utd.
Striker: Ruud van Nistlerooy
If only he hadn't have pissed off Sir Alex, he'd still be banging them in! 150 goals in 219 appearances, he could make himself a goal as easy as my mum makes chicken soup!
Subs: Van Der Sar, Cantona, Keane, Ronaldo, Hughes
There are so many great players I would have in my team, and I'm sorry I missed out Pallister, Beckham, Rooney, Albiston, Whiteside, the Greenhoffs, Macari, Buchan, Moran, Pearson, Coppell, Hill, Charlton, Aston, Foulks and more!
[wp_ad_camp_2]
---
Alex's Man Utd Best 11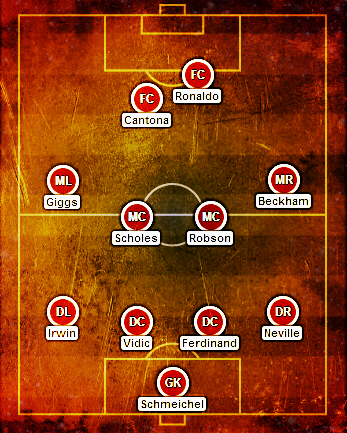 Goalkeeper: Peter Schmeichel
Commanding, fantastic distribution, fearless, amazing shot-stopper. Also, bacon adverts.
Right back: Gary Neville
A leader – bled United and would die for them. What he lacked in technical ability he made up for in effort and heart.
Centre backs: Rio Ferdinand and Nemanja Vidic
Has there been a better centre-back pairing in the last ten years? The latter is a bruiser and would put his head on the line, and the former could play it out from the back and was composed on the ball. The two read the game like no others, and were vital to our success in 07/08.
Left back: Denis Irwin
Irwin will always have a special place in my heart after signing my first autograph for me. An excellent full-back who could score a goal or two – Fergie rated him as one of his best signings, 'nuff said.
Right wing: David Beckham
Amazing crosser, great midfield goal scorer, vital to the success in 99. And you can't deny he had fantastic hair.
Central midfield: Bryan Robson
Robbo (aka Captain Marvel) was a player who I only managed to see in the latter stages of his United career; he was, nonetheless, amazing. Strong, great tackler and goal scorer. A complete midfielder.
Central midfield: Paul Scholes
It's Paul bloody Scholes – in my mind, the best player of my generation.
Left wing: Ryan Giggs
Beats Viera, beats Dixon, beats Keown, beats Dixon again, beats Adams, beats Seaman, gets out his rug chest.
Centre forward: Eric Cantona
Need I justify this choice? Eric was special, pure class, and invented je ne sais quoi before Henry had even stepped foot in a Renault. The reaction to "ze hooligan", his general skill and link up play and the goals. Oh the beautiful artistic goals!
Striker: Cristiano Ronaldo
The pedants out there will lambast me for choosing Ronny as a striker, but he was/is that good he could play anywhere upfront, and did. Ronny often played as a striker, as his ability was unsurpassed by any of his United teammates. Balon d'Or and FIFA World Player of the Year winner, he is recognised as the best player in the world, rivalled only by Messi. I feel honoured to have seen him play and score his first hat-trick against Newcastle.
---
Ricky's Man Utd Best 11
It's only really fair for me to do this based on players I've seen play during my time actually watching United, hence omitting anyone basically before the early 80s – I can't really judge Bobby Charlton et al without having seen them consistently. So…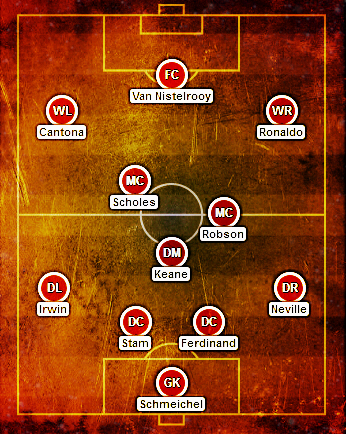 Goalkeeper: Schmeichel
Five-year-old me wants me to put Gary Bailey in goal, but then five-year-old me was still eleven years away from seeing Schmeichel basically win us the title in 95/96.
Right back: Gary Neville
Centre backs: Stam and Ferdinand
Left back: Dennis Irwin
Again, five-year-old me wants Arthur Albiston, but how can you ever fault Irwin?
Central midfield: Keane, Robson and Scholes
Forwards: Cantona, Van Nistelrooy and Ronaldo
Can I have a sub? It would have to be Whiteside! I wouldn't mind bringing Giggs or Rooney on as late subs too please.
---
So 4 writers, 4 different teams. But also some constants too. Schmeichel makes the cut in goal every time, and who could possibly argue with that (although Van Der Sar was a great goalie, and a great character, during his time at United.) Gary Neville was also the universal choice at right back (no contest), but otherwise, there was little clear consensus.
Who would you choose for your all time greatest Manchester United XI? Let us know in the comments below…

[wp_ad_camp_2]