Man Utd 2-0 Swansea: Reflections on a Return to Winning Ways
It's more than a little tempting to describe today's game using the ultimate football cliché, but I'll try to resist. Suffice to say that the first 45 minutes was as poor as we've played all season, but the second half made for much better viewing, and we deservedly picked up our first win of 2014.
A special mention goes to the Old Trafford crowd today, who were in excellent spirits from start to finish, repeatedly roaring "every single one of us will stand by David Moyes." I'd like to think it made a difference.
The First Half: Outplayed On Our Own Turf
Swansea had an incredible 65% possession in the first half, with United failing to make challenges or provide the movement needed to keep the ball effectively. Carrick and Fletcher had barely any options in front of them, and we managed just one shot on target before half time. Clearly, the tactics weren't working.
After the first 20 games of this season, 11.5% of all our passes were long balls (up from 9.6% last season), and that trend continued for big, gloopy chunks of the first half today. De Gea set the tone with some aimless punts forward when we all know his distribution's much better than that, and we seemed incapable of passing it out of defence.
Our best move of the half came with 8 minutes of the first period to play, with Welbeck firing his low shot just wide of the left post, but as the temperature fell and the supporters trudged inside for a half-time brew, there wasn't much to smile about.
Half Time Tinkering
Thankfully, Moyes made some good changes at half time, switching Shinji from out wide to in the hole, and pushing Januzaj to the left. That tweak made a huge difference to the game, and, having already hit the crossbar with a first-half free kick, Januzaj emerged as United's outstanding performer.
The Second Half: Januzaj, Januzaj, Januzaj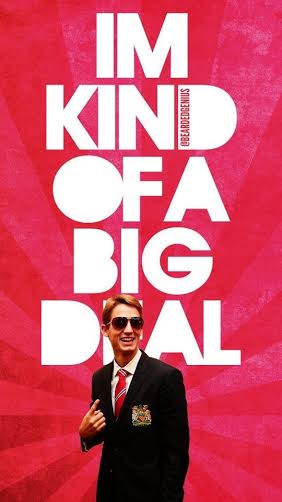 We named him as our Man of the Match as soon as the final whistle sounded, and that was backed up by the fans on Twitter and by Sky Sports too. After the match, Moyes agreed "his natural talent and ability is up there with the best."
Isn't it fitting that the "boy who can do anything" was born on the same date (5th Feb) as Cristiano Ronaldo and Neymar (and that c**t from Argentina too)?! Adnan looks like he was born to play for us, and I pray that we manage to keep hold of him for the next 10 years and more.
Beyond the brilliance of Januzaj, the whole team played at a much higher tempo after the break. They pressed higher up the pitch, like they did in the 1-0 win over Arsenal in November, and now they need to continue playing like this for the full 90 minutes in all the remaining games this season in order to stand any chance of breaking back into the top 4.
Still Not Quite Clinical Enough
Valencia helped his case today with his early second-half goal, and the impressive Welbeck made it 6 out of 6, but we actually could have scored at least 4 today. Smalling missed the easiest chance of the game (too many Jägerbombs?), and Kagawa failed to finish a brilliant counter-attacking move (started by Januzaj) when he rounded the keeper and had his effort cleared off the line. We need to convert these simple chances – a big win will give the squad the confidence boost it needs.
Next week we go to Chelsea, and we have to give 100% from the first minute to the last. We can't go there expecting all 3 points, but a draw is minimum we need. If we can somehow engineer a win, that could just be the beginning of a serious run of results.
Questions About the Defence?
It seems silly to criticise the defence after our first clean-sheet this month, but we shouldn't get complacent. Evra made some suspect decisions, and Vidic, on his 200th Premier League appearance, didn't look quite like the rock he once was. Smalling and Rafael looked better, giving us a bit of penetration down the right, and keeping it fairly tight at the back, but we still look like we could do with a couple of top-quality additions at the back. Moyes has denied we're close to a deal for Coentrao (contrary to what a fan confidently told me outside the ground before kick-off), and who knows whether there's anything in the rumours about Porto centre-back Eliaquim Mangala joining us this month. Maybe it's actually continuity that we need in defence – hopefully Moyes will settle on a first-choice CB partnership, and Evra will pop up with a few more goals to make up for his positional lapses and dodgy fouls.
And Finally…
…a shout out to Darren Fletcher, who really showed his class again today in his 5th successive start. What a massive boost it is to have him back in the team – he was at the centre of some of United's best moves this evening, and combined some glorious touches with the relentless hard work we all remember him for. Keep it up Fletch!