Abject Disappointment: Reflections on Yesterday's Reality Check
Like most of us, I was rubbing my hands waiting in anticipation for the game to begin. Our new team of Gaalactictos playing against a newly-promoted side. Our world class manager and his trusty assistant, who has won more medals than a Chelsea pensioner (and I don't mean Frank Lampard), sat ready.
Substance Over Style
What unfolded was a lesson in how substance over style can win you matches. It all started so well, two goals of utter class and "here we go," we thought. However, a defensive lapse by Rojo worthy of Evra on a bad day allowed Vardy to send over a lovely cross for Ulloa to pull one back as Evans watched.
The second half began as United left off, attacking with verve but looking dodgy at the back. If Falcao's lovely chip had dipped three inches lower, it could have been 3-1, but that was left to a deft back heel change of direction from Di Maria's shot on goal by Herrera to net United's third, and we should have been able to kill the game off, shouldn't we?
That Man Vardy
But we couldn't cope with that man Vardy, who seemed to be everywhere on a one-man mission to destroy United – what did we ever do to him? If only Rafael had not shown his immaturity once more. Vardy was a non-league player just two years ago, and played the Brazilian like a flute. Yes, Clattenburg probably had one of the worst games I've seen him referee, as the barge from Vardy in the first place was a bang to rights free kick, but he missed it, and I knew, once I saw Rafael get up and go after his prey, it wasn't going to end well. He literally fell for Vardy's tricks in the penalty area.
The Clattenburg Effect
Clattenburg pointed to the spot and the comeback began. United heads dropped and Leicester sensed there was something not quite right in the state of Mancunia. Clattenburg's poor decisions came back to haunt us – De Laet, an ex-United under-21 with much to prove, should not have been on the pitch to rob Mata and pass to Vardy for the fourth goal. Already yellow carded, his battering of Di Maria was shameful, as was deliberately pushing him onto the shale boarder of the pitch, which could have been nasty.
Tyler Blackett, who had played decently under the circumstances, was shown a straight red for a challenge on Vardy in the box, where a penalty against would have sufficed as punishment. It was not a goal scoring opportunity and, again, Clattenburg showed his meanest side to send off a non-violent player for non-violent conduct.
Without doubt, the penalty gifted to Leicester in the 65th minute started the downfall, and our defence capitulated to such a degree that you could read the shock and joy on the faces of the Leicester players.
Soft-Centred in Defence
What of Van Gaal? So full of arrogance and promise, yet he failed to shore up our back line in the transfer window with rock hard central defenders. He says he feels that it was not a defensive problem but a defensive organization problem yesterday. Could be, but I don't think so when names like Bruce, Pallister, Ferdinand, Stam and Vidic come to mind.
Coming to Terms with the Clipboard
The sight of Van Gaal sitting with a clipboard every game is quickly becoming a familiar one. I don't see passion, anger or motivation. Can you imagine Fergie sitting down with a clipboard while his team gifted goals to the opposition? How many times did we come back from a losing position, as did Leicester yesterday? Is it also my imagination that Giggs's body language does not auger well? He seems uncomfortable sitting next to Van Gaal, every now and then cupping his hand to his mouth to whisper to him.
Something to Smile About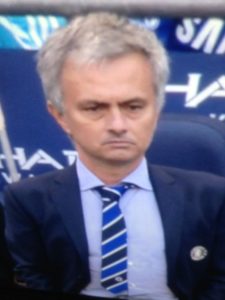 The only good thing to come out of yesterday's debacle was that many, if not all, our challengers for fourth place also lost: Liverpool, Spurs, Everton etc. And of course, watching Mourinho's face when Lampard scored City's equalizer… that was a welcome, if fleeting, slice of amusement on an otherwise dispiriting day.