United Lining Up Replacement for Moyes This Summer?
Reports have surfaced this week claiming that Man Utd will show Moyes the door and bring in Jurgen Klopp this summer, if Moyes doesn't manage to end the season in the top four.
I remain unconvinced that the Glazers would be up for ditching Moyes so soon, but the prospect of Klopp managing United is pretty exciting to say the least. I'm just not ready to get my hopes up yet.
Assuming there is some truth to this, however, and the United hierarchy are genuinely lining up an approach for Klopp this summer, how tempting would the offer be for the German coach?
It's not hard to see how he could be finding himself somewhat disillusioned with life at Dortmund. Bayern Munich's dominance seems absolute right now – they're unbeaten and 17 points clear of 3rd-placed Dortmund in the Bundesliga, and they're hoovering up some of Kloppo's best players (Mario Gotze joined Bayern in the summer, and Lewandowski will follow him on a free in the next window).
Klopp's achievements at Dortmund are impressive. After taking over in 2008, he led them to their first domestic title in 10 years in 2010/11, did the double in 2011/12, and took them to the Champions League final last season, where he held Bayern until the 89th minute.
After 6 great years at Dortmund, it's not that hard to imagine Klopp feeling the time's right for a new challenge, and United would definitely be that!
I'd love to see Klopp bring his 'heavy metal' football to Old Trafford, reunited with Kagawa and maybe even with Marco Reus in tow, although he doesn't seem like the kind of guy who would feel great about pinching players from the team he's taken so far.
His calmness and charisma is a total contrast to Moyes, and, at 46, he's already got a CV that puts DM to shame. He clearly respects Fergie, which, let's face it, would be a pre-requisite of the job, but he has enough about him to stamp his own identity on the club.
Let's not get carried away. Klopp has already turned down the chance to manage in England – rejecting advances from City and Chelsea – and he signed a new contract at Dortmund late in 2013. But if there's any chance we could bring in former Stuttgart man, we should take it all day long. With money to spend and a chance to prove himself in what is still surely the world's most exciting league, he could be a revelation.
Klopp is a man worthy of managing the biggest club on the planet, and so far Moyes seems to be nothing of the sort.
Given the choice between this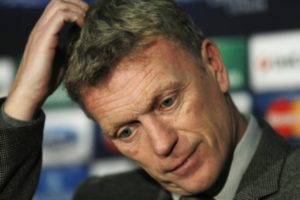 …and this
there's no contest.
Related articles across the web