Sheringham: "It Wouldn't Surprise Me if Giggs is the Next United Manager"
Former Man Utd striker and treble-winning legend Teddy Sheringham has tipped Ryan Giggs as the next Man Utd manager, saying that whilst he never saw him as management material when they played together, he has now changed his mind.
Speaking to the BBC, Sheringham described Giggs as a "very quiet man" and claimed that when Giggs was appointed as interim manager of the club, "he spoke more than I ever heard him speak" before.
Sheringham reckons Giggs looked at home in his very brief stint as manager, and we definitely wouldn't argue with that.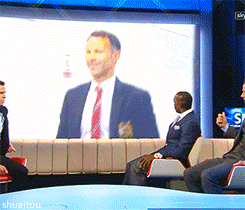 Giggs himself recently described his time so far working with Van Gaal as an "incredible learning experience," adding:
"The manager has given me that platform to go out and coach every day. And I am enjoying it thoroughly. He didn't know me before I met him, but we instantly hit it off.
"And he has given me massive responsibility from the start. I have worked hard in coaching just as I did as a player. He recognises that."

[wp_ad_camp_2]

Giggs has refused to be drawn on what the next step will be for him in his career, but it's impossible not to be caught up in the romance of it all – as someone who grew up watching Giggsy, the idea of our most-decorated player taking over when Van Gaal steps down just feels like it's meant to be. Scholes could be his assistant too, having spoken about how much he is missing football this week. It's all falling into place!
Van Gaal recently said he too believes Giggs can succeed him. I think that, if LVG leaves the club in a strong position in 2 or 3 years time, then I'd love to see Giggs as the next boss, but if we have not yet recovered some stability as domestic and European title-challengers by that point, the hierarchy may be minded to pursue another option – someone like Guardiola, for example.
There may also be a reluctance to choose a new manager based on the recommendation of the incumbent coach, as that didn't exactly work out well with the Fergie/Moyes process, but this situation is different in almost every way – Giggs lacks the management experience, but he knows exactly what Manchester United means. He knows the club perhaps better than anyone else currently on the staff, and his record as a player should be enough to command a level of respect in any dressing room.
His leadership style would no doubt be very different to the likes of Fergie and Van Gaal – he is an incredibly hard worker with an unquestionable winning mentality, but one would expect him to rule less with an iron fist and more with some mid-afternoon yoga bonding sessions.
Van Gaal's current contract ends at the close of the 2016/17 season. He has said he might extend this and spend 5 years in charge of United, but if he does go at the end of the next campaign, Giggs will be approaching his 43rd birthday at the beginning of the season he could hypothetically take the reigns. To put that in perspective, Brendan Rodgers and Roberto Martinez both turned 42 this year, and Gary Monk is just 36. So, whilst he lacks front-line management experience, he is already heavily involved in coaching andt team talks at United, and he would be a very reasonable age for a modern Premier League manager whenever Van Gaal calls it a day.
Let us know what you think in the comments and vote in our poll below…
[wp_ad_camp_2]
[socialpoll id="2288587″]