How Does Angel Di Maria Compare With the World's Most Expensive Players? [INFOGRAPHIC]
Man Utd have broken the British transfer record with a £59.7m deal for Real Madrid's Angel Di Maria. Fernando Torres was previously the Premier League's most pricey player – let's just hope that's the only thing the two of them have in common.
In global terms, this is the sixth most expensive football transfer of all time, so how does Di Maria compare with the top-5 most expensive players, all of whom are now based in Spain?
This infographic compares Di Maria with Bale, Ronaldo, Suarez, Neymar and Rodriguez based on their stats from the 2013/14 season.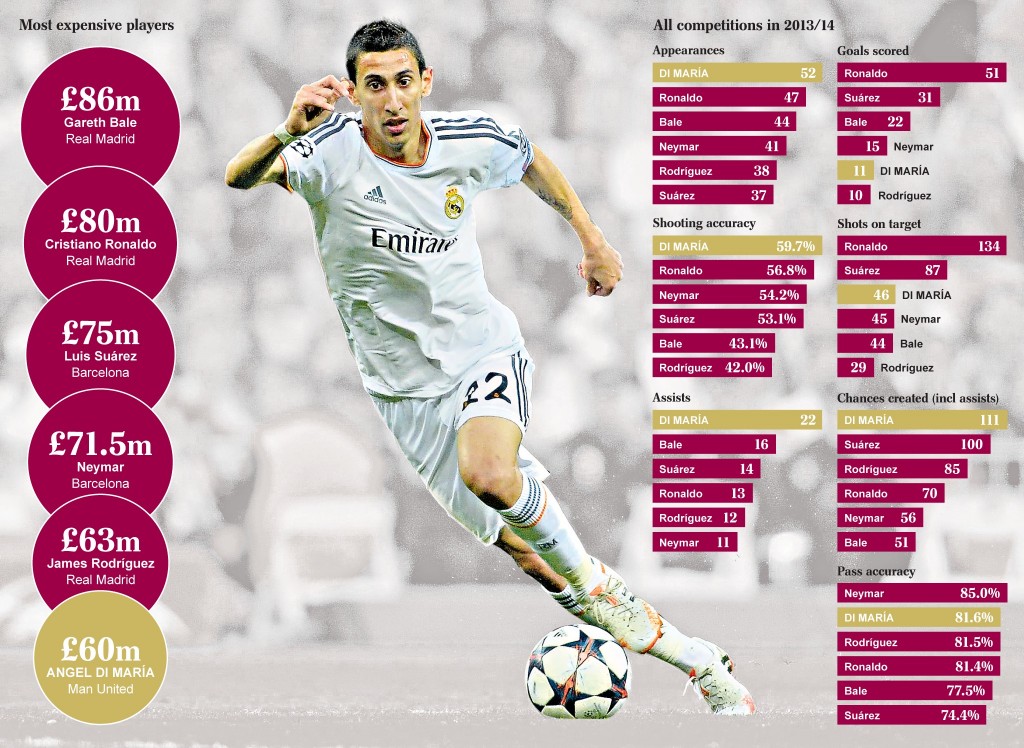 Di Maria made more appearances than any of the other world class stars on the list last season. Of the 52 appearances he made, 34 came in La Liga (27 starts, and 7 as a sub).
In terms of goals scored, Di Maria was nowhere near as prolific as the likes of Ronaldo, Suarez and Bale, but he was often played on the left of a 3-man midfield rather than up-front in Real's 4-3-3 formation. His shooting accuracy was actually the best of the bunch, but he registered far fewer efforts (46) than Ronaldo (134) or Suarez (87).
But coming into a United team that has all too often seemed bereft of creativity in recent times, Di Maria's assists and chance creation stats are certainly something to get excited about. He was comfortably the most creative player amongst the world's most highly-valued attacking talents last season, with a fantastic return of 22 assists from 111 chances created.
In terms of passing accuracy, only Neymar boasts a better percentage (85% compared with 81.6% for Di Maria). Last year was the first time Di Maria averaged better than 80% passing accuracy over a season, indicating that he's still improving as a player.Indeed, at 26 years of age (he turns 27 on Valentines' Day next year), we are signing a player as he enters what should be the best years of his career. If we get 6 great seasons out of Di Maria, that's £10m a year for a player of the highest calibre.
Related articles across the web