De Gea Voted Best Premier League Goalkeeper in 2013/14
Back in April, I did some analysis on who had been the best goalkeeper in the Premier League in 2013/14, and I had to hand that accolade to Petr Cech.
Feedback from supporters of various clubs was that I'd got this totally wrong, so I decided to run a poll, which was shared with non-club-specific communities on Facebook, Google Plus and Reddit (as well as with our own followers, of course).
We got 176 responses, so it's by no means the biggest data sample in the world, but as the season is coming to an end, and in light of De Gea winning both of the club's Player of the Year awards the other night, now seems like a good time to share the results.
---
Top 10 GKs, As Voted for By You
---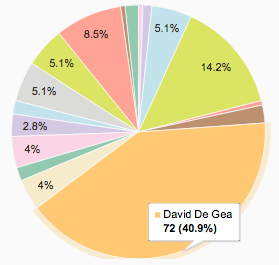 De Gea was voted as the best keeper in the Premier League, with 41% of the votes.
Petr Cech was second, with 14%, and Mignolet was third, with 8.5%.
Do you think this is a fair reflection of EPL GKs' performances this year? What do you see as De Gea's biggest strengths and weaknesses?
Leave us a comment below, and try to be as objective as possible!
Related articles across the web