Oh What Fun It Is To See United Win Away!
If you are one of the lucky few who has managed to get their hands on an increasingly elusive Manchester United away day ticket, then it is sure to be a day to remember. Whether it's a trip to the gargantuan Camp Nou, or a slightly less glamorous outing to Oakwell, it is an experience that Old Trafford simply fails to live up to.
Over the last 15 years, I have been lucky enough to experience several memorable matches away from our Theatre Of Dreams. Perhaps most memorably that sunny day in North London in 2001. If you are struggling to place what game I am talking about, I will give you a clue. We were 3-0 down at half time. For any Manchester United fan, this great day that saw us come back to win 3-5 at White Hart Lane will live long in the memory. I can still picture every goal in my head. Firstly there was Cole with a diving header, Blanc then nodded one in from a corner, Ruud pulled us level with another header, Veron made it 3-4 with a shot into the bottom right, and Beckham finished the proceedings with a rocket into the top left. Every goal had the rejuvenated United faithful exploding into euphoric ecstasy. The remarkable thing was that it just felt so easy, like we had gifted them a 3-0 lead like a child would gift their younger sibling a head start in a race in the back garden. Leaving the stadium that day I felt on top of the world, and little did I know started the tradition of successful away days to the Lane – witnessing us win 4-1 whilst sitting with the Spurs fans was an interesting experience to say the least!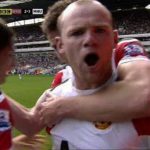 Another notable away day came at Upton Park. After finding ourselves two goals down thanks to two Mark Noble penalties, Wayne Rooney subsequently bagged a hat trick, and Chicharito finished off the scoring. Rooney also vented down the camera lens, if that rings a bell? The memorable thing about this match was the atmosphere, and also the people sitting beside me. Next to me were five perfectly nice and friendly guys – they were a little inebriated to say the least, and were all in fancy dress. Where's Wally, Spiderman, a character from Little Britain, a man in lederhosen, and Little Red Riding Hood, if I recall correctly.
I was sitting next to Wally, and after we both agreed that we felt we were going to score from an upcoming free-kick, which Rooney subsequently buried, our friendship was well and truly established. When Rooney scored to make it 2-3, in a fit of euphoria I somehow found Wally sitting on top of my shoulders.
And I do not care what anyone says in support of the atmosphere at Old Trafford, until I find a drunk man dressed as Wally aloft my shoulders seconds after we score a goal, I will always and forever only look back upon away days for unrivalled match day atmospheres.
Related articles across the web